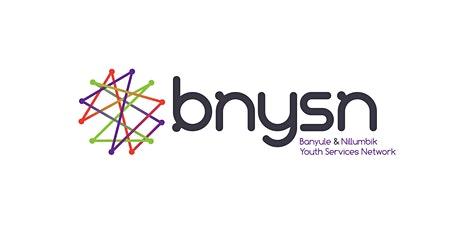 The Banyule Nillumbik Youth Services Network (BNYSN) is the major connection body for youth services across the sub region, covering a breadth of issues affecting young people, and including workers across of range of fields who engage with and support young people.
Banyule Youth Services and Nillumbik Youth lead and support the network alongside over 20 membership organisations who have contributed throughout the last two decades.
The BNYSN operates across 4 different streams:
The BNYSN Executive Committee meets monthly for high level networking, strategic planning and advocacy to different levels of government for the benefit of young people and the workers who support them.
BNYSN Youth Worker Forums are held at least 4 times a year, including professional development and networking opportunities. Topics for the sessions reflect the presenting challenges and emerging trends of the Banyule and Nillumbik area to respond to the needs of workers.
Hit The Ground Running is a full day program, run twice yearly, to induct new workers into our area. HTGR introduces workers to 10+ local services and includes networking and reflective activities.
BNYSN Yammer group is a social media platform with over 400 members from Banyule, Nillumbik and surrounds who promote, share, ask questions and connect.
For a list of upcoming events visit http://bnysn.eventbrite.com/.
Subscribe to the BNYSN Newsletter